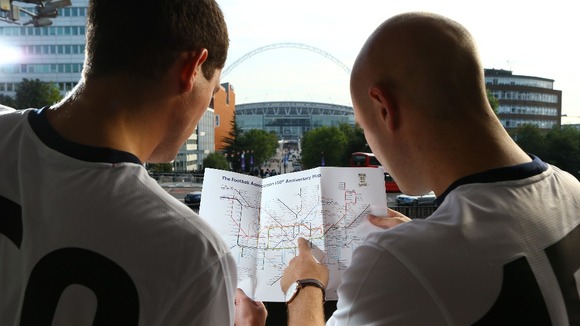 To celebrate 150 years of both, they've created a limited edition tube map, which swaps the 367 Tube, DLR and Overground station names for those of football greats. Players appear at stations relevant to their success Credit: London Underground/FA A number of the past and present footballers appear at stations with special relevance. Leytonstone marks the place of David Beckham's birth, Arsenal is changed to the club's England midfielder Jack Wilshere and Upton Park becomes 1966 World Cup-winning captain and West Ham United great, Bobby Moore. David Beckham lends his name to Leytonstone Credit: Dominic Lipinski/PA Each tube line represents a different footballing 'category' Credit: London Underground/FA Below are the stations with particular relevance to the given names: Denmark Hill – Peter Schmeichel, Former Danish international Highbury & Islington – Dennis Bergkamp, Arsenal legend New Cross Gate – Tim Cahill, Former Millwall favourite Norwood Junction – Attilio Lombardo, Former Crystal Palace favourite Crystal Palace – Mile Jedinak, Current Palace star Queen's Park – Pavel Srnicek – Former QPR favourite Wembley Central – Eric Cantona, FA Cup Winner at Wembley North Wembley – Nicolas Anelka, FA Cup Winner at Wembley (and scored twice for France v England) Shepherd's Bush -Rodney Marsh, QPR legend Lancaster Gate – Sir Bobby Charlton, England legend/Former FA Councillor Totttenham Court Road – Jimmy Greaves, Tottenham legend Liverpool Street – Ian Rush, Liverpool legend Leytonstone – David Beckham (place of birth) Newbury Park – Mick Channon Fulham Broadway – John Terry, Chelsea legend Putney Bridge – Tony Gale, Former Fulham favourite Wimbledon – Andy Thorn, Former Wimbledon favourite St. James's Park – Joe Harvey, Newcastle legend West Ham – Billy Bonds, West Ham legend Upton Park – Bobby Moore, West Ham legend Watford – Graham Taylor, Former Watford manager Wembley Park – Sir Alf Ramsey, World Cup-Winning manager at Wembley Tooting Broadway – Alex Stepney, England goalkeeper started career at Tooting & Mitcham United South Wimbledon – Dave Beasant, Wimbledon legend Arsenal – Jack Wilshere, Current Arsenal star Finsbury Park – Theo Walcott, Current Arsenal star St. John's Wood – Ian St. John Woolwich Arsenal – Eddie Hapgood, Arsenal Legend. Credit: London Underground/FA "Football and London Underground have always been closely linked – from the early days of the game, to jubilant fans travelling to and from Wembley on the Jubilee line and the hundreds of thousands that use the network to get to games every weekend today." Phil Hufton, Chief Operating Officer of London Underground Credit: London Underground/FA Players capped more than 100 times are specially marked Credit: London Underground/FA Players who have been capped more than 100 times for England including Rachel Yankey, Peter Shilton and Steven Gerrard, are marked with special icons, as are England players with more than 40 goals, including FA150 ambassador Michael Owen and Gary Lineker. The map also singles out those who have won five or more FA Cups – such as Ashley Cole and pre-war players Jimmy Forrest and Charles Wollaston. It also includes symbols to show those who have been Knighted – Sir Geoff Hurst, Sir Trevor Brooking, Sir Walter Winterbottom and Sir Alf Ramsey – or are a Peer of the Realm, like Arthur Kinnaird. The map marks 150 years for the London Underground and the FA Credit: London Underground/FA "Creating this special version of such an iconic map is a fitting way for The FA and London Underground to mark its shared 150th anniversaries. With the map featuring so many greats from the history of the game, it is sure to generate huge debate amongst fans live sex chat cams as well." Alex Horne, General Secretary of The Football Association The map was collated by the Football Association's historian David Barber. Early drafts were shared with notable football writers and commentators, with the aim being to create a list that truly celebrates a century and a half of the nation's favourite game. The FA is this month marking its 150th birthday, with the game's oldest governing body formed on 26 October 1863 at the Freemasons' Tavern, near Holborn tube.
Is London Big Enough For A Second Startup Hub?
… I like how he just sits there and stays still. It's pretty cool." Jamie McDonald Getty Images Fullscreen It would probably be pretty cool for NFL Commissioner Roger Goodell to put a franchise in London as part of his legacy. However a league official recently told USA TODAY Sports there won't be a team permanently based abroad anytime soon. A London Super Bowl may be a more realistic possibility in the short term. Richard Mackson, USA TODAY Sports Like this topic? You may also like these photo galleries: Replay Last Slide Next Slide They still needed a big stop from the defense in the closing moments, when Everson Griffen stripped Roethlisberger of the ball on the 6-yard line with 19 seconds left and Kevin Williams recovered the fumble to seal the victory. "It feels great to get our first home win of the season," Vikings head coach Leslie Frazier said. "And we had to come all the way to London to get it. I think I'll always have a special place in my heart for Wembley Stadium." He suddenly has a bit of a quarterback controversy as well. Cassel finished 16 of 25 for 248 yards and two touchdowns with no turnovers. But with Ponder hoping to have recovered from a rib injury after the coming bye week, Frazier said he doesn't expect a permanent switch.
Vikings get first win, Steelers don't in NFL's London showcase
Weve got a huge space. Weve got a Muay Thai boxing gym in here, so we have two boxing rings in the office people find it quite quirky. If were going to meet clients, then the fact that we can show them an interesting space that isnt just four desks in a really expensive Shoreditch office gives us some more credibility, Hill says. And The Downsides If Hill and other West London startups have the classic advantages of the gentrification pioneer big, character filled spaces in which to create he also faces some of the same challenges. The biggest one? Imminent interest in the transforming neighborhood that will shift the real estate market once again. FIGs warehouse home is slated for demolition in the next few years to make way for an expansion of the shopping center that also serves as its landlord, so the incubator is already making plans for a move. Were already looking for where might the next big warehouse project is that we can take over and bring in even more exciting businesses, Hill says. That might be a hassle for the companies in FIG Village, but its good news for the city, Hill feels. I certainly think West London is changing. The Chelsea/Kensington area is trying to make a push for having some level of tech presence as well, as is Notting Hill, he reports.